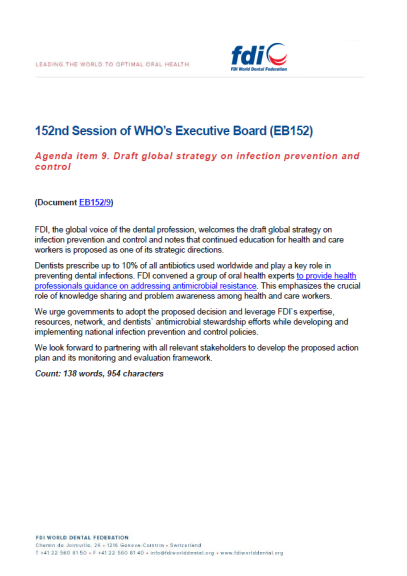 WHO EB152 - FDI statement on Item 9
FDI, the global voice of the dental profession, welcomes the draft global strategy on infection prevention and control and notes that continued education for health and care workers is proposed as one of its strategic directions.
Dentists prescribe up to 10% of all antibiotics used worldwide and play a key role in preventing dental infections. FDI convened a group of oral health experts to provide health professionals guidance on addressing antimicrobial resistance. This emphasizes the crucial role of knowledge sharing and problem awareness among health and care workers.
We urge governments to adopt the proposed decision and leverage FDI`s expertise, resources, network, and dentists` antimicrobial stewardship efforts while developing and implementing national infection prevention and control policies.
We look forward to partnering with all relevant stakeholders to develop the proposed action plan and its monitoring and evaluation framework.
Downloads