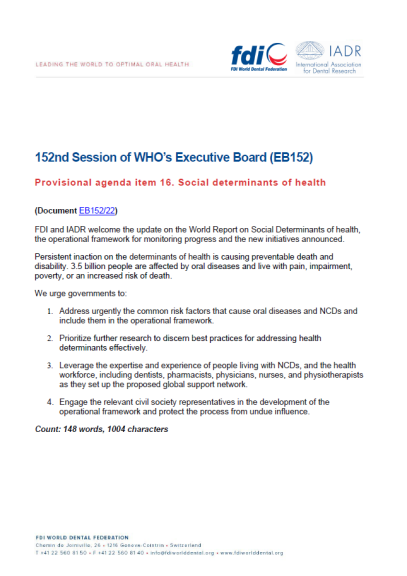 WHO EB152 - FDI-IADR statement on Item 16
FDI and IADR welcome the update on the World Report on Social Determinants of health, the operational framework for monitoring progress and the new initiatives announced.
Persistent inaction on the determinants of health is causing preventable death and disability. 3.5 billion people are affected by oral diseases and live with pain, impairment, poverty, or an increased risk of death.
We urge governments to:
1. Address urgently the common risk factors that cause oral diseases and NCDs and include them in the operational framework.
2. Prioritize further research to discern best practices for addressing health determinants effectively.
3. Leverage the expertise and experience of people living with NCDs, and the health workforce, including dentists, pharmacists, physicians, nurses, and physiotherapists as they set up the proposed global support network.
4. Engage the relevant civil society representatives in the development of the operational framework and protect the process from undue influence.
Downloads