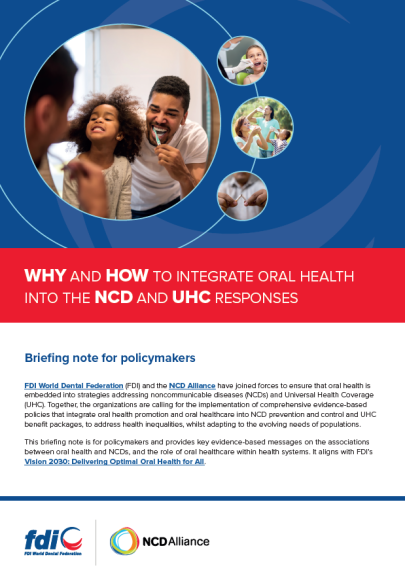 Oral health and general health
WHY and HOW to integrate oral health into the NCD and UHC responses
Published: October 2021
In the context of WHO's recent resolution on Oral health (WHA74.5) and the upcoming 2022 Global strategy on tackling oral diseases, FDI and the NCD Alliance joined forces to develop this briefing note for policymakers.
This document calls for the integration of oral health promotion and oral healthcare into noncommunicable disease (NCD) strategies and universal health coverage (UHC) benefit packages. And it makes the case for oral health to be considered an essential element of general health and well-being.
The briefing note provides five key evidence-based messages on the associations between oral health and NCDs and the role of oral healthcare within health systems. It also provides solutions on how to implement such strategies by outlining calls to actions for each key message.
Suggested citation: FDI World Dental Federation, NCD Alliance. WHY and HOW to integrate oral health into the NCD and UHC responses. Geneva: FDI World Dental Federation; 2021. Available from: https://www.fdiworlddental.org/resource/why-how-integrate-oral-health-into-NCD-UHC-responses 
Downloads