FDI President celebrates World Oral Health Day with schoolchildren in Indonesia
FDI President celebrates World Oral Health Day in Indonesia and emphasizes the importance of getting regular check-ups for a lifetime of smiles.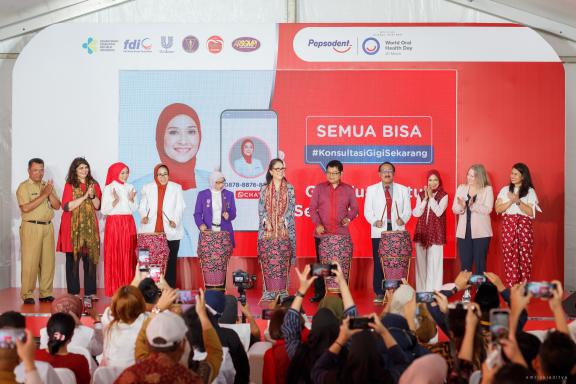 World Oral Health Day (WOHD) is an important global event that emphasizes the significance of oral health and encourages people worldwide to maintain good oral health throughout their lives. To mark this occasion, FDI President, Prof. Ihsane Ben Yahya attended an event in Jakarta, Indonesia, co-organized by the Indonesian Dental Association and Pepsodent.
The event, held at a school, proved to be a great success, with Prof. Ben Yahya emphasizing the importance of instilling good oral health habits from a young age, and encouraging regular check-ups so that everyone can reap the benefits of good oral health and subsequently good overall health.
 
Talk to a dentist: Increasing access to oral healthcare to maintain lifelong smiles
During the opening ceremony of the event, Prof. Ben Yahya stressed the importance of promoting good oral health habits among children. She highlighted the need for everyone to understand the impact of oral health on overall well-being and how maintaining healthy mouths can lead to a lifetime of smiles. The WOHD celebration was attended by schoolteachers, policymakers, and members of the oral healthcare community, amongst others.
"As we celebrate World Oral Health Day, I encourage everyone to promote oral health and to Be Proud of Your Mouth for a lifetime of smiles," stated Prof. Ben Yahya. "With our collective efforts, we can make a positive impact and create a world where everyone can enjoy good oral health."
Prof. Ben Yahya also commended the efforts of the Indonesian Dental Association and Pepsodent to increase access to oral healthcare through their Now Everyone Can #TalkToADentist initiative. This initiative aims to tackle the issue of limited access to dental care by providing free dental consultations through teledentistry services, as well as organizing dental camps to reach remote communities and those with limited access to care.
This inspiring campaign highlights the potential of teledentistry to improve access to high-quality oral healthcare and advice. Regular check-ups are essential for maintaining good oral health throughout life, and oral health inequalities must be addressed to ensure that everyone receives the care they need.